A new 'Pay as you Play' contract for Abou Diaby
I have not written much of late but something I mentioned on twitter earlier seemed to hit the mark and strike up quite a debate. It also ties in with some research I had done that I thought I might use in a blog so here goes.
My question/suggestion on twitter earlier today was posed as I was wondering whether most fans would welcome a Diaby new deal if it was only on a 'pay as you play' basis – To use topical jargon 'A Zero Hours Contract!'  Could we pay him a basic wage to train and be a squad member at a lower level than his current salary and only pay him an enhanced wage based on minutes successfully completed for the first team? My contention is that Abou himself would certainly be happy to extend on this basis as his love for Arsene, the club and the patience and support he has been offered deserve it.
So the question is more one of whether the club, basically Wenger feel the potential of a fit Diaby and the risk that entails, assuming it is not a financial one, is worth taking. The gamble if not a monetary one is simply a weighing up of the implications for the squad of Diaby being one of the 25 and if that prevents a new addition coming in or a blossoming youngster progress.
The response was highly mixed, ranging from one extreme to the other. Many suggested we should get rid without a second thought, some suggested a loan for him to prove consistent fitness and others are positive about the pay as you play deal. It is a hugely tricky decision and not in my mind a straight forward one for one main reason. As Simon Rose from the 'Gooner' so eloquently summed it up:
"Having seen Abou through years of injury, AFC shouldn't let him leave now to be fit elsewhere. AFC should reap those rewards."
For some the argument holds true for Theo Walcott as well but to me it resonates more with Diaby because a fit Diaby on the bench next seasons covers virtually every midfield base for Wenger. We all know he can play the box to box, or second pivot role as well as any in the squad and I include Ramsey and Wilshere in that statement. Early in his Arsenal career he was frequently played wide in a four, usually on the left but also on the right, so the role Ox or currently Ramsey are playing he could also cover. Abou is not a holding midfielder but he can do the job that Coquelin or Arteta currently do. At a push because of his easy graceful movement with the ball I suggest he could even come on and play and advanced CAM role is required behind the striker.
A fit Diaby therefore as a squad member ticks every box across the midfield in the current 4141 or in the 442 or 4231.
There is of course the concern that Diaby takes up a squad place as an overseas player and then is again injured. To this one could say that is no different than we have had the past 2 seasons and his versatility gives him a huge advantage over Flamini who is highly likely to leave this summer.  Another consideration worth taking in account is that Wenger's apparent number one target Morgan Schneiderlin counts as 'Homegrown.' and would not take up an overseas squad place.
Nevertheless the current 1st team squad listed on the website has currently 12 names in 'midfield.' Of these I think Flamini will depart and Zelalem with go on loan. It remains to be seen what will occur with Arteta and Rosicky, both fabulous servants to the club and positive influences but neither in their 30s would merit a place in the side or on the bench ahead of a fit Diaby in my book.
I know that the coaching staff have been impressed with Bielik but he is in reality challenging more for the Scheiderlin, should he arrive or Conquelin role, so again is not a direct alternative to the Frenchman.
In reality the main direct competition in 1st team squad terms to Diaby is none other than Jack Wilshire, another whom I suspect may divide opinion within the Arsenal fan base. One was just as likely to have seen a supporter suggest we should cash in on Jack if the Citeh interest was genuine, as see one be horrified at the mere suggestion we might sell one of our own.
The crux of the matter is that when Jack is away we always cope admirably and perhaps forget how good he can be? Or is it that the emergence of Coquelin and the continued interest in Scheiderlin makes one wonder if he would ever get a start over Ramsey or Santi?  There may be an element of both of the above but I suspect strongly it may just be that in Jack we are all secretly or openly concerned that we have Diaby Mark II…….
So just assume for one crazy moment that Abou Diaby is actually through the worst and plays out this season with some minutes, as does Wilshere and both have a good pre-season. One might argue that neither would figure in too many first 11's in August but the following might give some food for thought. Particularly for younger fans of 'Our Jack.'
Abou Diaby made his first team debut in January 2007 and to date has played 157 times for the Arsenal.
Jack Wilshere made his first team debut in Sept 2008 and to date has played 149 times for the Arsenal.
Abou Diaby has scored 19 Goals which is a ratio of 0.12
Jack Wilshere has scored 11 Goals which is a ratio of 0.07
Abou Diaby has 13 Assists which is a ration of 0.082
Jack Wilshere has 21 Assists which is a ratio of 0.14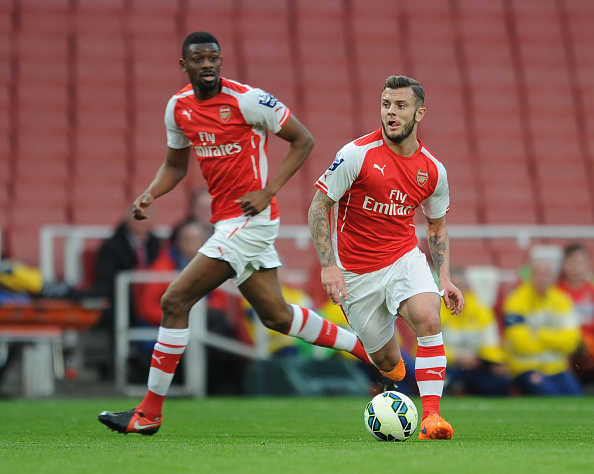 If however we concentrate the 2 box to box croc's efforts into their best seasons where they were consistently selected it may prove interesting:
Diaby – Aged 21-24 2007/8, 08/09 & 09/10 – 107 Appearances – 15 Goals, 7 Assists
Wilshere – Aged 18- 22 2010/11, 12/13 & 13/14 – 119 Appearances – 9 Goals, 17 Assists
Not much to separate and bear in mind that in the middle of that purple patch Diaby had his ankle shattered. The point is that Wilshere is the fans darling because we see him as one of our own and he has had some incredible games for Arsenal, but they have been few had far between in recent seasons. The evening he outshine the Barca midfield will live long in the memory as will the cup replay v Swansea but he has had better games for his country of late in a role in a formation we won't play in a position he won't get at his club.
We should also remember that the 5 year deal awarded to Diaby by Wenger which our supporters with short memories like criticise was on the back of 2009/10. A season in which Abou played 29 of our 38 Premier League games , all our Champions league outings and scored 7 and made 5. He also ended the season as the only French player, and I include Thierry Henry in that, to emerge from a disastrous World Cup with any credit, playing all 3 matches.
At the age of 23 with no leg breaks or career threatening tackles Jack has missed effectively 2 whole seasons through surgery and injury.  Truth is none of us know whether Wilshere is over the problems but both players are apparently fit and in training. Both have featured in 2 U21 matches for the club and both are in contention for a place on the bench at least in the very near future, if not at Wembley.
We know that Wenger has huge admiration for both players both as men and as footballers. Diaby has discipline, determination and talent on his side but time is not his friend. Wilshere has the time ahead of him, considerably less discipline it seems and a point to prove. Both might look to another in their midst for inspiration as we as fans might when considering discarding our unfortunate Frenchman.
Tomas Rosicky is a fans favourite because he stuck with us and we stuck with him. He like Jack and Abou missed more than an entire season and yet I do not recall a clamour to sell the Czech skipper. Tomas fought back from a career threatening injury and yet in not a single season since he returned in 2009 has he started 20 League games. As recently has 2012/13 Rosicky managed only 16 games with only 11 started. However he started the last 5 games that took us beyond Spurs into the Champions League.
Who is to say that Abou Diaby like Tomas Rosicky when not expecting to start every week could not become an equally valued member of the squad being used in certain games and coming on to turn them? Last time due to ironically others injuries Abou was thrown into the first team at the beginning of 2012/13 and was asked to play week in week out. That would not be required of him in 2015/16.
Many deliberations and much food for thought on for me what is not as straight forward a decision as some may feel. For this fan at least if Diaby will sign and extension on a pay for play basis he is worth a place in any squad in the Premier League but I would sooner see him on our bench with 20 minutes to influence a match than anyone else's.
You may also like...