Arsenal still have much to learn to match the Top Teams!
Football is a game where the final score does not tell the whole story and Arsenal's 2-0 defeat against Chelsea is a perfect example of that. The Gunners went into the match reasonably confident after having had a resounding 4-1 win in the Champions League a few days ago. Further, there were also numerous lessons learnt from past matches – none more so than the 6-0 thrashing last season. It appeared that Arsenal were indeed affected by the score last season. After Chelsea's win, Betfair gives betting odds for 1/2 for Chelsea to win the title ahead of Manchester City, who are 11/4.
Arsene Wenger has been criticised for not changing his tactics when it comes to big matches. Some of his tactical mistakes came with respect to fullbacks, who have pushed too far ahead, even against top opposition, and this led to the gunners being caught on the counter-attack time and time again. This was one of the biggest failings last season and Chelsea were 3-0 up inside the half-hour mark.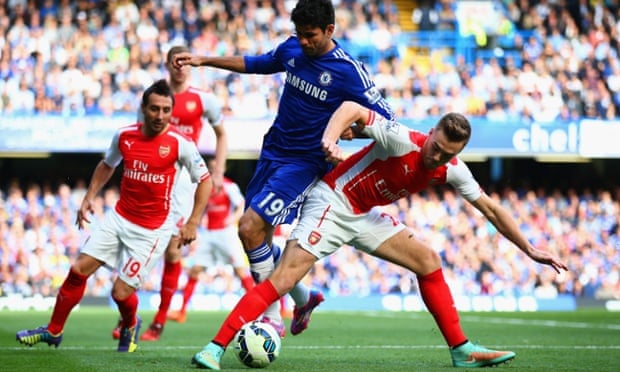 There were clear signs that Arsenal had learnt from this defeat. Kieran Gibbs and Calum Chambers were much more disciplined going forward. Arsenal made sure that they had at least five players – four defenders and Mathieu Flamini – with a defensive mentality. For much of the opening 45 minutes, this worked extremely well. Chelsea did have a lot of possession especially in the opening 25 minutes, but Wojciech Szczesny was almost a spectator.
Chelsea's best attacking moment was also the move that led to the goal. The media, backed by some incredible statistics, have made up Diego Costa and Cesc Fabregas as the two most dangerous players in the Chelsea team this season, but Eden Hazard continues to remain the biggest threat. The Belgian international has often been responsible for opening title defences with his impressive turn of pace over the crucial first 10 yards, while his ability to run with the ball has also been equally good. It was not surprising that Chelsea's first real opening came from Hazard's explosive run into the box, which led to the penalty conceded by Laurent Koscielny.
However, Arsenal should have never allowed Hazard in a goal scoring position. This is where Arsenal appear to be permanently weak and it was cruelly exposed once again.
Hazard's darting run came after Arsenal had just given up possession from a quick free kick inside their own half. Other top teams playing away from home usually take such freekick positions to release pressure off the back four and also move forward in the pitch. Yet, Arsenal's naive nature was exposed once again after Chelsea quickly recovered the ball leaving the backline in a horrible shape.
Secondly, Hazard should have not been allowed to get into the box in the first place. Flamini and Santi Cazorla, who were not on yellow cards, could have easily fouled him just outside the box. Of course, there is a threat of conceding from a free kick, but it is arguably not as dangerous as Hazard running at the opposition 25 yards from goal. Arsenal, it seems, are still learning the art of tactical fouling. Perhaps, they can learn a thing or two from Oscar, a 21-year-old who showed incredible tactical nous and energy.
In their efforts to come back, Arsenal dominated the possession in the second half. However, there was not a great deal of threat for Chelsea even then. There was a reluctance to cross the ball on Arsenal's behalf. Even then, Arsenal would not have had a great chance given that Danny Welbeck – the only physical presence in the forward line up – would have been outnumbered quite significantly. Barring Cesar Azpilicueta, all of Chelsea's back four and their defensive midfielders are extremely good in the air. Arsenal lacked another physical presence, which could have come in the form of Olivier Giroud or even Yaya Sanogo.
Sky Sports pundit and former Liverpool defender Jamie Carragher said ahead of the match that Jose Mourinho was being clever in changing his teams for different opposition. Wenger has shown the first signs of coming into this philosophy, which has been one of the reasons for Arsenal's inability to win the league title in the last decade. Still, it does not appear that Wenger has the squad to adapt to different opposition. Of course, a number of crucial players like Aaron Ramsey and Giroud are unavailable, but that is simply not an excuse for the club that consistently talks about winning the title.
It appears that the defeat has not hurt Arsenal's chances of finishing in the top four, at least according to bookmakers. Betfair still backs Arsenal at 4/9 to finish in the top four this season even after witnessing both of their major rivals Manchester United and Liverpool winning against Everton and West Brom respectively.
They are unlikely to be favourites for a top four finish if this current run of form continues. Arsenal have just one victory in the last five Premier League outings. The next four fixtures, though, look extremely winnable and Wenger will be disappointed with anything other than 12 points from these matches. It will also bode well for the upcoming home match against Manchester United.
You may also like...