Does Jack Wilshere still fit in Arsenal 2014/15? The answer may lie in 1997/98 formation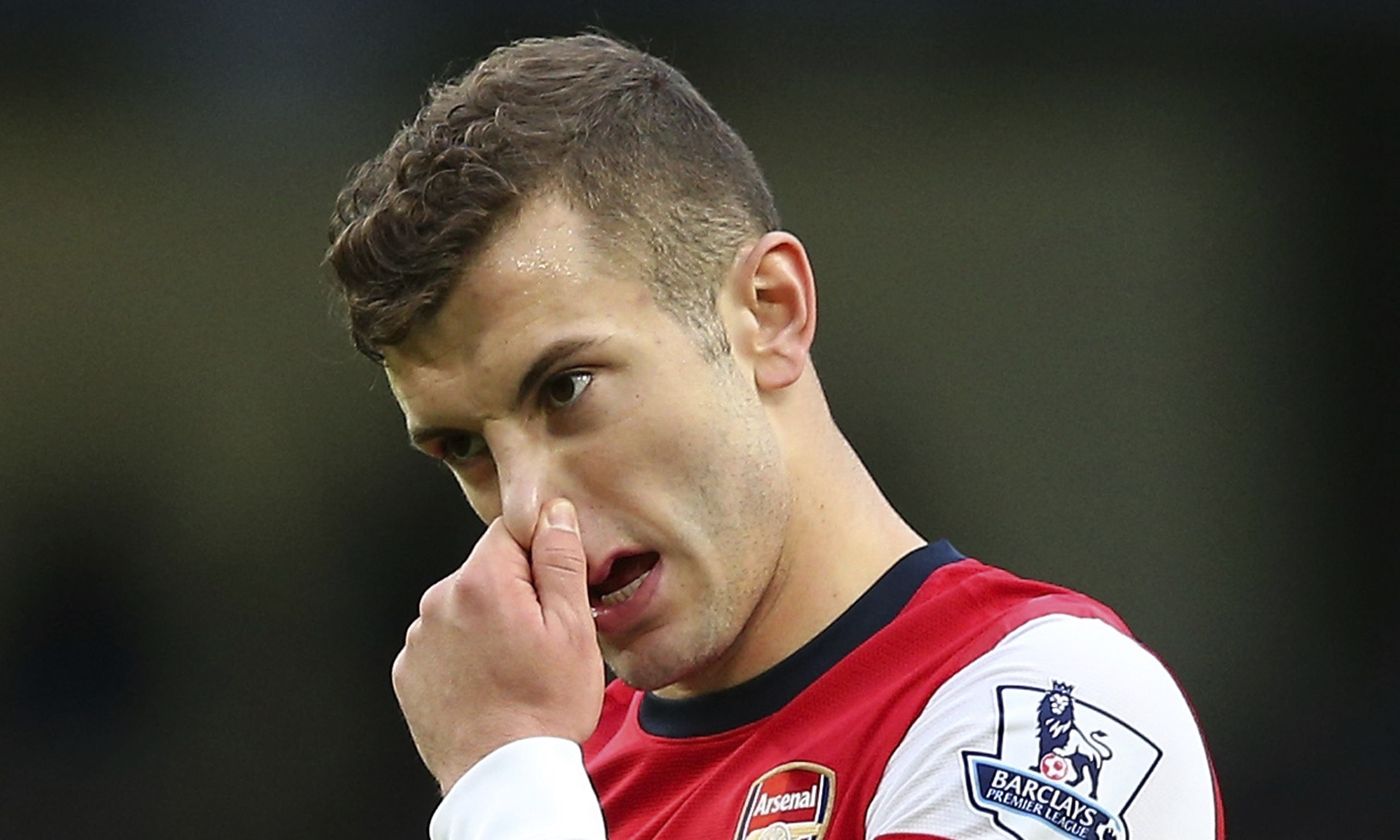 I have no idea who will come in to bolster the current squad but the indications are perhaps 3 and not too many more from Wenger. I think one will be a striker,  Joel Campbell perhaps, possibility a right back, certainly a centre back BUT definitely a strong powerful midfielder.  This article is not a transfer speculation piece however, more a formation speculation piece. I certainly don't want to be ripping up the squad and dismissing players prematurely when we all have an FA Cup Final to enjoy and it is our current team who have taken us to Wembley taken major scalps en route.
It was the Semi Final though when for the first time in over a year when Wenger altered our shape to 442 that once more got me thinking about whether our existing 4231 is always the best for us in every game. Wigan, if we are honest were holding us comfortably and many inferior sides that have done their homework have been able to the same on occasions. In reality it is not like being back at school and revising for an exam where you have to guess which subjects might arise in the paper. Any coach knows what our team set up will be and we can argue about of fluidity and interchange of positions of our 3 players behind the striker but unless a team is man marking that is not an issue if the objection is to sit and not concede. In essence you don't need to revise what might be in the test at the Emirates because you already know. Everyone in football knows.
The above criticism or observation was exacerbated further in the early part of 2014 when we lost both of our key runners in Walcott and Ramsey. Our inability to perhaps change our style and formation in their absence perhaps cost us dearly. It also made Giroud a scapegoat which for me at least he did not deserve.  His hold up play and ability to bring the runners into the game are superb. Why he was blamed for the lack of runners and his lack of mobility was beyond me. The other problem or perhaps quandary might be a better word that the injuries raised before his own, is that of Jack Wilshere. Jack has incredible talent but in this system it does not bring what Ramsey does. It strikes me one crucial difference is that Jack enjoys running at players with the ball at feet whilst Ramsey would sooner look for a quick give and go.  Wilshere was simply not getting into the advanced positions and goal threatening situations as often as Ramsey did playing in the advanced pivot.  This presents a dilemma for Arsenal because he is simply not physical enough to occupy the role this season shared between Arteta and Flamini.
So where will the lad labelled  'the Saviour of English football,' only a few seasons back find his place in the Arsenal side week in week out? Because if Jack is not able to force his way into his own team, he won't be saving his country in the near future will he? So whilst accepting we will need to make full use of the squad are their perhaps alternative ways of setting up the team that might utilise Wilshere's strengths? If there are might this not also have the additional benefit of making us less predictable?  This is not a case of not rating him or losing faith in him it is more  a case of finding a way of bring the best out of his considerable talents – He has the heart of a lion, is tenacious in the tackle and is at his best running with the ball. However is passing is not as accurate as it should be and his instinct, despite the goal v Norwich is not to drive into the box without the ball.
Firstly let's look at the current system of 4231 and I have made only one assumption of a certain new addition. I have no idea who it might be but we need the long awaited replacement to Gilberto and in my personal view next season it will not be Arteta or Flamini. We need a more mobile physical presence and whilst it could be a refreshed, re-educated and reinvigorated Abou Diaby I am going to use my own wishful thinking and name that player Morgan Schneiderlin! I fully expect there to be a new striker but for the purposes of this exercise I will stick with Olivier Giroud as Wenger has
Again only my views but in this formation is all are fit and well Jack Wilshere would only be cover for Aaron Ramsey but so equally could Oxlade-Chamberlain be. In this formation in 2014/15 I cannot see a way for Jack to be first choice.
The second alternative deployed by Man City this season when Silva has been out, using Nasri and Navas wide and by United under Ferguson has been a more traditional 442 with box to box wide players.  Again one of the central pairing will sit deeper as Carrick did for years and Fernandinho or Garcia have for City this season. In this formation I would potentially see this as a first choice line up for Arsenal in 2014/15.
Again I would see Wilshere as second choice but perhaps in 2 potential positions. He would once more understudy Ramsey but could equally understudy Cazorla using his running power on the left flank. He could easily whip in left footed crosses and his defensive contribution and fitness levels would surpass Santi's. For me this 442 or 41311 is the system we operated in 2001-05 and i would sooner see Theo operating at the head of this team than on the right.
The third alternative and the one that would give Jack a key role would see us return to the 1997/98 double winning formation. I have advocated this in the past when I suggested using Ramsey in the Ray Parlour role might work well. What was so perfect about this formation was that it utilised the strengths of both wide players. Overmars the attack minded, flying winger with a superb eye for goal on one side and Parlour the converted central midfielder, with a phenomenal engine willing to work box to box and tuck in to make the third midfielder when Overmars had joined the front two. In essence the lopsided 442 became a 433 with Petit shifting left and Parlour shifting in alongside Vieira.
It would look like this when the team sets up:
But could adapt very swiftly to this when Theo Walcott joins the attack as Overmars did so often when he operated on the left:
In 2014/15 Walcott is Overmars and Wilshere is Parlour, albeit on opposite flanks.  In this formation Jack Wilshere fits perfectly and against other sides playing 442 with lesser players this fluid formation I would see working a treat.
I guess it comes down to whether the management continue to select a similar formation for each and every match or whether they begin to adapt the team for the opposition on any given day. The joy of the above possibilities thought is that in the main they use the same players meaning the formations can alter during play or as appropriate to circumstances.
I would enjoy seeing the last system tried. It would be exciting and would get the best from so many of our players, notably Theo and Jack, whilst leaving Ozil and Rambo where they do the most damage.  None of us doubt that Wilshere has a bright future but can we include him and Ramsey easily in our current 4231? Perhaps not but we should bear in mind that he IS the future of Arsenal FC whereas perhaps beyond next season Cazorla is not. Santi has a new deal but his impact this season has been far from the impressive influence shown in 2012/13.  Perhaps it is Santi and Jack who may share the load rather than Ramsey and Jack as most might immediately perceive?
I am not drawing conclusions,  more opening a debate that could be a lot less obvious if we broaden our mind when it comes to formations and how they can adapt game to game and in game. I hope this article at least starts a few conversations. When we consider that England's best 2 two teams in recent global tournaments has Barmby on the left and then Joe Cole on the left it must tell us that good players can adapt to playing what ostensibly in not a role they first occupied. One must accept that Ray Parlour was a far more rounded player when he returned to the centre from his time out wide.
The formations certainly make it fairly clear we need a third centre back and urgently too.
Enjoy the debate and roll on Wembley. I doubt Jack will start but he should make the bench and Arsenal must be firm favourites so get your free football betting sorted and let's hope after 9 years we are all winners on Saturday.
Until next time and I hope it won't be so long!
Like what you read? Agree/disagree? Leave a comment below or follow me or comment on this blog on Twitter – http://twitter.com/goonerdave66
Please also check out the website for the new tribite book to Geordie Armstrong available to pre-order now
You may also like...