Indian Global Gooner Passion – Part 1 – Setting the scene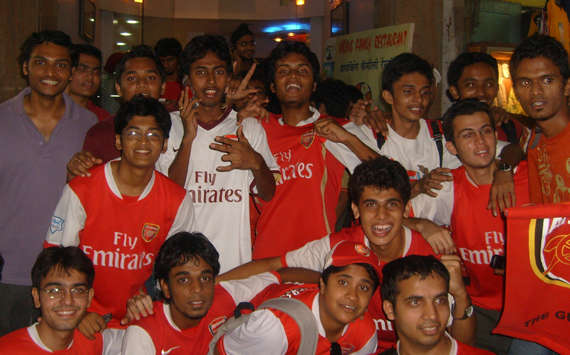 Over the past few months I have brought you a mixed variety of blogs exploring passion for Arsenal in different countries around the globe. We have been to Nigeria originally and then Norway, Kenya, Russia, Australia, Brazil and South Africa since the end of the season. The response has been amazing and I hope we have all learned 2 things; Firstly that it does not matter from where you support our great club you are still every bit as much a supporter as those of us fortunate to go to matches. Secondly that Spurs are a small club and have no supporters outside of England.
I did say that I would only run this series until Premier League season so I am running out of time and the constant question I have been asked is when am I doing India? The truth of it is that I have been a tad scared of tackling Indian passion. The Arsenal fraternity out there are so knowledgeable and articulate about our club and there are so many quality Indian bloggers. So being the coward I am I have enlisted the support of some friends to do the passion for our club in India justice.
The introductory piece to start is is written by Adi Manjunath. Adi has written a 4 part series for another website on the passion for the EPL and Arsenal and I was attracted by the quality of his writing.  I asked Adi if he would mind writing for me to set the scene for India week. Some of you and soon many more of you may know him from twitter as @Themetalgooner . Adi is 19 is from Bangalore and is currently studying Communication in LA at the University of South California. Over to you Adi……
To give all of you an idea of how, when and to what extent Arsenal FC has affected football fanatics in India – it is important to understand what India is going through as a country, or what it has been going through in the last 10-20 years or so – and how football as a whole is becoming more popular despite India's affinity and obsession for the sport that is cricket.
The curious case of a country called India
The most important statistic that speaks volumes of why football has suddenly become so popular in India, is the fact that 35% of India's entire population (which is, mind you, over a billion people), is below the age of 20.
This number is literally always taken into account when anyone speaks of the endless possibilities of growth in India – whether it be foreign companies investing or outsourcing, or more importantly, in the case of how the country is developing at a rather quick pace and is becoming incredibly productive.
As far as statistics goes that are specific to the sport itself, India had around 155 million football viewers in 2010, and the fan base for the English Premier League is on the rise. 45 million Indians watched Barcelona beat Manchester United at Wembley in 2011. These numbers are high for a nation that literally worships cricket and invests little in other sports, and these numbers continue to grow with time.
For instance, the FIFA World Cup held in the Far East in 2002 was watched by 34 million – and that number was almost doubled eight years later when 63 million people watched the 2010 carnival held in South Africa.
So how does Arsenal FC fare in this developing nation?
Well Arsenal, among other clubs – are recognizing that India is an emerging market for the sport that needs to be tapped into as soon as possible. This is not only with respect to commercial opportunities seeing that the Indian middle class is becoming richer with every passing year, but also with respect to youth talent that will slowly but surely start to appear all over the nation, considering our massive, massive population.
Arsenal tied up with "Tata Tea", a company belonging to the multi-million dollar Tata Group that interestingly also owns Jaguar and Land Rover, to organize the Tata Tea Soccer Stars program. This was a tournament of sorts that identified 30 youngsters in India to be trained by Arsenal coaches, which subsequently led to 16 players being sent to Arsenal's annual International Soccer Festival which occurs in London every year in the summer before the Premier League begins.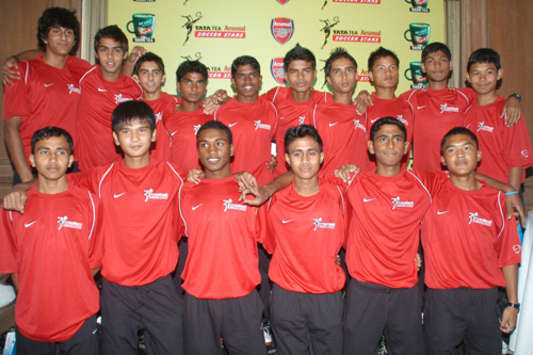 The fortunate Young Tata Tea hopefuls – Class of 2010
The Tata Tea Soccer Stars program's first team won the Plate Cup at the 18th Arsenal International Soccer Festival at the Royal Hallway Stadium in London back in 2008.
This is, of course, in addition to Nike having a number of stores all over the country that sell Arsenal merchandise – and that's a point I will elaborate on later.
Dispelling the "Indian-fans-are-bandwagon-supporters" notion
There is no denying that Arsenal supporters who live in London have a very, very different experience from those who live thousands of miles away in India. Being able to go to games and living in areas where other Arsenal supporters are easy to find is definitely one of the perks of living in London – and the experience of a fan that does not have these perks is very, very different.
However, I do not subscribe to the view that one set of fans are better than the other – or care more about the club. Accusations such as these are simply inane and pointless – especially when the lot doing the accusing have no idea what supporters around the world go through to support their favorite clubs.
That being said, most Indian Arsenal supporters if asked, will tell you that they are surrounded by either friends, colleagues or even acquaintances who support other clubs which seem to be either equally or far more popular. These clubs include Liverpool, Manchester City, Manchester United and Chelsea FC. Fans are subject to endless banter from rival supporters, as unlikely as this might seem to some, even in India.
While it is easy to identify a trend with respect to the most popular English clubs in India, (in particular, the aforementioned four clubs and Arsenal FC), it is wrong to brand all Indian supporters as bandwagon supporters who follow clubs that are on the right end of the Premier League points table.
While I cannot vouch for clubs like Manchester City or Chelsea who have become powerhouses in recent years through the excessive spending of their respective owners' money (and I do not want to), this is not necessarily the case for clubs like Arsenal. In Arsenal's case, the Indian fan base has continued to grow in the recent past, regardless of their 7-year barren run in terms of trophies. A majority of fans that happened to start supporting the club when they were in their prime in the early 2000s have not abandoned the club in order to find greener pastures; and newer fans are coming on board despite our club not being "successful" in the eyes of some.
To put it simply, a majority of Arsenal fans in India are not bandwagon supporters, and are genuine fans that are in this for the long haul.
Money, money, money?
While international supporters may not directly contribute to their clubs' income through the purchase of match day tickets (and this seems to be one of many arguments by elitist fans who go to games), certain fans who are able to afford club memberships do not waste any time in spending their money to avail of any services they can get by being official club members.
However, more importantly, supporters around the world try their hardest to get official merchandise from the companies that sponsor their favorite clubs' jerseys. In Arsenal's case, Nike has a wide reach in India and stock Arsenal jerseys in stores all over the country. While fake versions of Arsenal jerseys are available at much cheaper prices than those available in official Nike stores, Gooners in India try their best to support the club in any way they can.
Fans that are either high school or university students who get little in terms of personal allowances, and do not have part-time jobs might buy cheaper, fake merchandise at a knock-off price initially; only to buy official merchandise as soon as they get jobs a few years later. Most fans that have full-time jobs buy official merchandise because they can afford it; and while Indians continue to get hired in hordes by companies all over the world, more Indians will consciously pick official merchandise over fake merchandise for a number of reasons, most importantly because they can afford it.
This can only be good for Arsenal FC, because while all of this hard-earned money goes to Nike, international revenue in terms of merchandise is a tangible method of measuring Arsenal's worldwide reach. This helps the club in getting better financial deals for any possible sponsorships and tie-ups.
Arsenal will be renegotiating a number of sponsorship deals in 2014 and by having an incredibly diverse and widespread fan base, the value of the football club increases and thereby the value of all these deals also increase for the club. The talk of Arsenal moving to Adidas is a clear sign that this is a move solely motivated by financial reasons – and this can only be good for the club.
How die-hard and dedicated ARE Indian Arsenal fans?
Indian Arsenal supporters have to go through the struggle of staying up late to watch all UEFA Champions League games at midnight on working days, with the Indian Standard Time being around approximately 5 hours ahead of most European countries.
You'd think that this would mean that Indian fans don't bother with the Champions League altogether, but this does not deter them from watching Arsenal play; even if it means they have to stay up till around 2 am, only to wake up at 7am to get ready to go to work. (Or school in the case of students.)
Another brilliant example of how intense our support can get for our clubs (and more importantly, Arsenal FC) is Aby Baby Kuruvilla – a die-hard supporter who recorded a hilarious, yet brilliant vide0 to win a VIP trip to the UK to watch Arsenal play Liverpool at home in February 2010. ( Editors note – This guy is clearly bonkers!)
 [youtube.com/watch?v=–CdA8IhE6Q&feature=player_embedded 250 100%]
Aby Baby Kuruvilla get is presentation at Emirates
There aren't a lot of Arsenal supporters anywhere in the world who'd have the guts to record a fan video such as this one. Some of you might think that he made an utter fool of himself – but he won an all-expenses paid trip to watch Arsenal play at the Emirates – so the joke's on you, really. His level of dedication and support is matched by many, many people all over India who love Arsenal FC for what the club is and what it stands for – but have not been lucky enough to witness Arsenal play at the Emirates live.
To add to all of this, supporters are actively organizing screenings in specific cities in India, with various supporter clubs popping up in bigger cities such as Bangalore, Mumbai and Delhi. If Facebook pages are anything to go by, Bangalore has over 11,000 users on their page, while Mumbai has just over 6,000 – and this, while representing a respectable figure, in reality probably represents a minority of the actual number of fans in those specific cities – let alone the entire nation. These groups will continue to grow with time as more events are held, and social networking websites like Facebook and Twitter has and will help their cause greatly.
How did I end up an Arsenal fan?
The story of how I fell in love with the beautiful club that is Arsenal FC begun a little over a decade ago when I was 9.
Who? Arsenal and Manchester United. When? 25th November, 2001. Where? Highbury.
My introduction to the sport of football began with watching Thierry Henry play for France a year or two before this game. While flipping through channels on that fateful day, Henry came up on the TV as soon as I switched to the channel that happened to broadcast the match; and that, if I remember correctly, was the only reason I decided to not continue switching channels.
As a kid – all of us have silly ways to decide who we liked better. I, for example, loved the color red. From loving to watch Michael Schumacher drive for Ferrari in the F1 Championships, to loving James in the Thomas the Tank Engine series because he was red, I was obsessed with the color. It only seemed logical for me back then to think to myself, "I want Arsenal to win".
What's funny is I had no idea that this was a huge game with a bitter rivalry between the two clubs at this point, and I had no idea that Manchester United actually wore a red jersey at home. All I can say now is, I ought to thank my lucky star I didn't watch United play at home instead!
I remember the game like I watched it yesterday. Scholes scored the first goal for United in that game, with Silvestre making a great run on the left (who would've thought, eh?). We eventually came back after Pires played a great ball through Ljungberg to score our equalizer – Ljungberg's red hair had me sold back then, but he's remained one of my favorite players ever since. Later on, Beckham passed back to Barthez who made an awful mistake by passing the ball to Henry who put it away effortlessly. That happened not once, but on two occasions, and that eventually left the final scoreline reading Arsenal 3, Manchester United 1.
  Bon merci Fabien mon ami!
Obviously things have changed since then and I don't support Arsenal just because their home jersey is red and just because Henry played for them (although that turned into another interesting story I wrote about here). But that is, truly, how it began for me as an innocent 9-year old who had no idea that in those 90 minutes I would be exposed to a phenomenon that would change my life from there on.
The dream.
To conclude, it is a well-accepted fact that for Arsenal fans in India, their individual love-affairs with the club all comes down to a dream, a simple (and rather obvious) dream. To travel to London, England, and watch Arsenal play at Ashburton Grove. Ask any set of Arsenal fans about their top dream travel destinations, and there's a good chance that London will be up there on the top of that list – and if that is the case, it is even more likely that Arsenal had a huge role to play in making that decision.
Some people manage to fulfill that dream – and this is again testament to the fact that more Indians are able to afford making the long trip to London.
And there are the rest of us – including me, who continue to dream, and will more likely than not, somewhere down the line make that trip and watch our beloved team play.
Thanks Adi and superb introduction to the passion felt for Arsenal in your great country. If and when you make it to London you will be my guest at the Emirates. More Indian Gooner passion to follow so. Until next time thanks for reading.
 Like what you read? Agree/disagree? Leave a comment below or follow me or comment on this blog on Twitter – http://twitter.com/goonerdave66
You may also like...