The past few days have brought a double batch of good news for Arsenal's rejuvenated midfield dynamo Tomas Rosicky.
The Arsenal fans have voted him 3rd in their own poll for Player of the Season. Something I doubt he or many of us would have envisaged at the beginning of the season or even in December.
Crucially however for the player and the Czech Republic, who he proudly captains, Rosicky has been passed fit, after suffering a calf strain and is expected to be able to lead his team out against Russia on June the 8th. (A date with opposing skipper Arshavin)
"It's getting better. I joined the guys for some phases of training today. It's on a good path." Tomas himself was quoted on the 29th May.  He will not be risked in his country's last warm up v Hungary this weekend but will be in full training again from Monday.
I am quite pleased to say that in early February on this site I called for Rosicky to step in and replace a jaded Aaron Ramsey at the sharp end of our 3 man midfield. His performances from February to May were nothing short of season changing and the man of the match display at the Emirates against Spurs later that month quite literally did kick start a run of form that took us into sight of 3rd place from nowhere.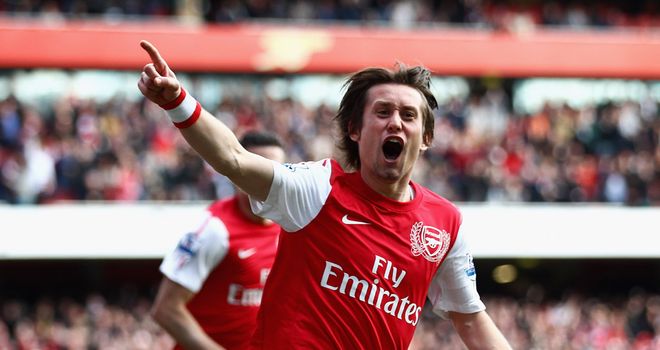 The Goal that turned our season started and finished by Rosicky – Take a bow son!
I was not alone of course and he has always been a popular figure since his arrival in 2006 from Dortmund. Indeed he was a marquee signing, of the type fans scream for today. He was the Czech Player of the year and a matter of weeks after we signed him scored 2 screamers from outside the box against the USA in the World Cup that summer.
He was a central midfield playmaker for Dortmund but Wenger had bought him to replace Bobby Pires on the left of a 4 man midfield. He had a first season that any player adjusting to the EPL and a new country would be proud of. In 28 outings for the Gunners he scored 7 and assisted for 4 goals.
In 2007/8 I am still convinced the league title would have been ours had it not for Rosicky being injured in the New Year. Followed of course by the Eduardo horror. It was a mystery problem that was to keep Tomas out for the whole of 2008/9 as well. Before Rosicky was injured Arsenal were top of the league and the Czech playmaker in 19 appearances had already scored 6 and made 2 goals by the end of January.
I am only taking you the reader on a trip down memory lane because for younger fans Rosicky will have only been a peripheral figure always around the team but for most perhaps not seen as integral to it and certainly not a player seen as key. Many thought last summer he would be sold but I was not amongst then – time for my Nasri conspiracy theory for those who have not heard it before, here goes:
I may be reading too much into this but I saw the Carling Cup Final in February 2011 as a key turning point in the fortunes of Rosicky and Samir Nasri. We should remember that whilst Tomas is essentially an attacking central midfielder before his long-term lay off he has been playing wide in a 442 as I have said.  By the time Tomas had returned in 2009 Wenger had switched to 4,2,3,1 and Fabregas was playing centrally and Nasri and Walcott either side. The form of Nasri and Fabregas obviously made it difficult for Rosicky to win a regular staring berth back but the team selection for me against Birmingham told us so much about how Wenger saw the future. The press and many Gooners assumed that with Fabregas injured that Nasri would be given his role to pull the strings behind van Persie. However Wenger had other plans. He gave the creative central role to Tomas and to add insult to injury moved Nasri to the right and brought Arshavin in to his usual left wing role. Now this is a conspiracy theory of course but Nasri barely played another decent game from February to May and I feel it was because he knew despite what the hacks thought that Wenger's vision for Nasri was not to give him a central playmaker role even if Fabregas left. It is my theory but on the evidence of this season Wenger in the New Year, again turned to the experience of Tomas Rosicky to pull the strings that Ramsey was failing to pull.
Despite my conviction that Wenger still had the utmost faith in him there were still rumours of interest from around Europe last summer and most particularly from Wolsburg in Germany, a country the player of course knows well. Here are more reasons for Gooners to love the man who when asked about the rumours and his plans when arriving back for pre-season had this to say
 "I don't want to go somewhere where I would have it easier and where even the ordinary life would be easier for me. I want to achieve something with Arsenal.
"On Monday, I am starting pre-season with Arsenal. Before vacation I was speaking with coach Wenger and he told me he counted on my services and that there was no intention of selling me."
These few words tell us so much about the man. Wanting to stay and fight for his place at a top club in a top league rather than move for an easier life. The fact that having been a bit part layer form 2 seasons his passion and desire to achieve something with Arsenal speaks volumes for the man. He came to win trophies with this great club that stuck by him through 18 months of injury hell in 2008 and 2009. Unlike others Rosicky wanted to stay loyal to the club that gave him his chance in the EPL. For TR7 there is unfinished business with the Arsenal. You have to love him….
     Big shoes to fill but Tomas stepped up!
So back to last season and whilst Arteta has slotted in beautifully next to Song it became apparent to all but the most ardent of Ramsey fans that he was struggling to step into Fabregas's shoes. It was a big ask and he is still a young man back from a year out of top level football Ramsey had played so many games for one so young returning to top flight and in a role that is so pivotal to the way Wenger wants us to play. He was not moving the ball swiftly enough, wanted too many touches and in short was not creating enough assists in a role and formation that only works when the player in that position is doing just that.  It was this fact that caused Wenger to turn back to a fully fit Tomas Rosicky in February against Blackburn and quite frankly we never really looked back. For me 'Little Mozart's' continual motion, fast and accurate passing and decision making was very much one of the key differences in the second half of the season. It is the speed of thought and the experience, combined with the swift and early passing that made Rosicky so effective in the advanced attacking midfield role. Tomas is only 31 and whilst circumstances have limited his impact since his brilliant first 2 seasons, those doubting his potential impact should perhaps have a look at his international career spanning 12 years since his debut for the Czech Republic in 2000. Tomas himself feels he has 2 extra years as he has missed so much football, so perhaps we should think of him as only 29! For those who question his ability to contribute at 31 please just cast recall Xavi and Gerrard will be leading their countries hopes this month.
In his own words: "There's no difference between what I'm doing now and, let's say, five years ago. You know, my normal age is 31 but in football years I'm 29 – I lost two years because of injury so let's just talk about my football age. I still believe I have plenty in me – we'll see how it all goes, but right now I feel great and want to continue this way."
In doing some research for the previous piece I was astounded how Rosicky's contribution for his country, which he has for many years has captained, compared with the very best in Europe. In 25 matches for the Czech's since his injury break Tomas has 7 goals and 4 assists, which considering he has not been playing week in week out for Arsenal is astonishing. This includes 2 assist in the play-off against Montenegro securing the Czech Republic's place at Euro 2012.
However in 82 caps for his country in total Rosicky has 20 goals, a 24.4% ratio, which compares better than favourably with the very top attacking midfielders of his generation.
Just to illustrate the point:
| | | | |
| --- | --- | --- | --- |
| Attacking Midfielder | Caps | Goals | Goal/Games Ratios |
| Schweinsteiger | 90 | 23 | 25.5% |
| Lampard | 90 | 23 | 25.5% |
| Rosicky | 82 | 20 | 24.4& |
| Gerrard | 91 | 19 | 20.9% |
| Van der Vaart | 93 | 17 | 18.2% |
| Xavi | 108 | 10 | 9.26% |
| Deco | 75 | 5 | 6.66% |
| Modric (£40mill??) | 54 | 8 | 14.8% |
| Pirlo | 82 | 9 | 11% |
| Iniesta | 64 | 11 | 17.2% |
| Nasri | 29 | 3 | 10.3% |
| Hazard | 27 | 2 | 7.4% |
I think I have thrown in most of the attacking midfielders from the top nations in Europe and I have not omitted anyone obvious to make my point. (Hazard and Nasri I have thrown in just for fun but poor stats nonetheless.) In reality Tomas is a top international attacking midfielder and until such time as Wenger chooses to invest, or until Jack Wilshere returns, I feel that 'Little Mozart' deserves his accolades and a place in our side, and I will be delighted and a proud gunner if he shines at the European Championships.
" A few more symphonies to be composed by our Little Mozart yet!" was how I finished my article in February
Anyway I obviously love the guy and hope he still has a role for the next season or two and his new 2.5 year contract suggests Wenger agrees. So let's hear from Wenger speaking after the Milan 2nd leg and then from a few more fans of Rosicky's you may know:
After Milan at the Emirates Wenger was asked whether Arsenal as a team have set the level of performance needed for the rest of the season, Wenger chose to single out the Czech Republic star. "Yes," he said. "But I have to give credit to Rosicky for that. He was again outstanding tonight. In all of these games, he was one of the influential players and he does not always get the credit he deserves, so I would like to take this opportunity to give him this credit."
Robin van Persie after Rosicky's man of the match performance against Spurs "He rarely scores, but [his goal against Spurs] was so important," RVP  said. "He started the move himself and then finished it really well. Tomas is a hugely important member of this team – he has been playing so well this season and you can see that he's going from strength to strength."
Gowtham  @theGoonArmy: "Rosicky is a real inspiration for youth players and young members in team, to be out with injury so long and to be back even stronger is something special .During the 10/11 season so many Gooners wanted him out, when Aston Villa was strongly linked with him. Who would have though then he would be such a key member in the team this season and that unbeaten run in was unthinkable without him. He moves and sprints around like a 24 year old so his age is not affecting his game at all and players like Eisfeld are already idolising him."
Samuel Hutchinson @GunnerGalatico:  "Tomas Rosicky or Little Mozart, as I like to call him has been rejuvenated this season. The thing I like about him most is his turn of pace in the first few yards of his dribble (also his unique stop & turn skill haha). He loves a good old slide tackle, isn't afraid to get stuck in and has so much purpose about his play. He's one of the few players in our squad that turns and runs at defenders with pace and in my opinion with Arshavin & Nasri gone it's an attribute that has been important to our campaign. I hope he stays fit & keeps this form going."
John Aggrey @Superjohna07: "Rosicky, please note his turns and the way he allows the ball to run just in front of his body and his killer curve crosses."
Martin Stolze @hahostolze: "He has sprung back to life, like a spindly deer after pretending to be dead, but he should get his haircut."
And lastly Sophia @Sooso_02  "He looks like BUZZ in the disney's cartoon " Toy Story"  so in true tabloid stylee!
                        Tomas                                                                        Buzz
Until next time, thanks for reading and here's wishing Tomas one hell of a Euros. Makes us even prouder TR7 – To Poland and the Ukraine and beyond!!
Like what you read? Then follow me or comment on this blog on Twitter – http://twitter.com/goonerdave66