WHY I WISH WE ALL STILL LIVED IN A PERRY GROVES WORLD!
Football and footballers have moved on from the era in which Perry Groves played for 'The Arsenal' as George Graham, who signed Perry from Colchester money that has been injected by television, but you do sometimes wonder, always called our great club. In many ways things, have improved and this is mostly down to Sky Sports and the if we the fans can possibly connect with our heroes the way we once did?
I never had the talent to be a footballer but had I, I would have wanted to play for the team I loved and supported. Not many players get the opportunity, but Perry Groves did. Perry was a Gooner through and through who got to live the dream. He was playing for Colchester in the lower reaches of the football league when Graham, newly appointed to his own dream role, made Perry, a complete unknown, his first signing for a grand total of £75,000.
I am writing this for several reasons. Primarily because I have just once again read Perry's biography and if any self respecting Gooner has not read 'We all Live in a Perry Groves World' I strongly suggest you do so. However, it is more the general context of this week with Thierry Henry returning and all the gossip about potential transfer window signings, as well as the fees and wages the modern player expects or demands. Football has just gone crazy!
Don't get me wrong I love Thierry Henry as a player and for everything he helped us achieve in the past decade. I jumped and screamed in the upper echelons of the north Upper on Monday night and sang his name again and again. I have also though read in the programme and subsequently how it is different this time because he is just here as a fan and due to his love for the club. I don't know what Sol Campbell and Jens Lehmann asked for on their returns, but I do know that we are paying Henry £70k-a-week and covering his insurance. For me this is a slightly odd way to show love and to help out the club and, more importantly, the man to whom he owes everything.
I am not saying it is wrong, but it is the way football is today and it just makes me look back through rose tinted glasses to the Perry Groves era when the Arsenal team was largely made up of London lads living their dreams. In September 1986, when Groves signed for Arsenal, his first contract was £350-per-week. Then there were appearance and win bonuses of up to £100 per draw home or away and a whopping £250-per-match won home or away! But that was not all – there were additional bonuses for finishing in the top six and for runs in the FA Cup. As you would expect, Perry signed the contract before the financials were even discussed. On a quick calculation given we finished high in the league and won and drew more than we lost, I reckon Perry made over £30k that year before tax. Wow!
Perry was never the most talented or blessed player, never even a regular first choice player, so why is he an Arsenal legend to so many even now? Well we can easily say that to be an Arsenal legend you must have won things with the club. Perry came on in the latter stages of the 1987 League Cup final and crossed for Charlie Nicholas to win the trophy against the all conquering Liverpool, our first major honour in 8 years. Perry was also on the pitch as a substitute when Mickey Thomas lifted the ball over Bruce Grobbelaar to secure our first title in 18 years and he played 21 times and contributed 4 goals that season.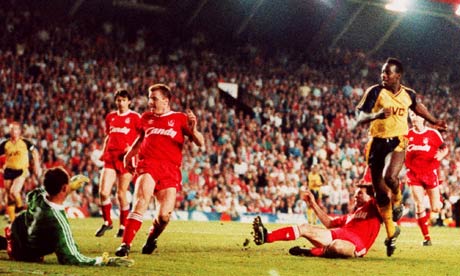 In 1990/91 he only failed to appear in 10 league matches as we secured a second title losing only one game, and only because our skipper was banged up in Chelmsford prison. There are a handful of players in our history who have won 2 league titles and as we all know none of our current crop has come close to one as yet. It comes back to the question of what defines a legend. Cesc Fabregas is probably one of the greatest players to ever pull on the red and white, but having won one FA Cup he is probably not an Arsenal legend.
However, with Perry Groves it is so much more than the trophies he helped us win. Why after so many years are there really only three ex-players whose names we still chant? We all sing Rocky Rocastle and we know sadly why that is. Rocky was a compatriot of Perry's and we all remember him as an Arsenal great taken from us too early. We also on occasion sing about a Bergkamp Wonderland. It is a great song and he was one of our greatest. So why is the only other man who has his own chant, the Tintin look-alike Perry Groves? Why some 20 years after Perry left Arsenal for Southampton, where his career finished early due to injury, do we on occasion sing 'We all live in a Perry Groves world' to the tune of Yellow Submarine? You know the words – at no.1 its Perry Groves and no.2 its Perry Groves and so on and on…..
If you younger fans have been bemused please see below here to a resounding welcome for Perry at the Rocket Pub in Holloway a few years back.
Perry, who just missed the big bucks of the Premier League era, tries to explain it in his book…why has he become a cult with Gooners, with his own song and websites such as weloveperry.com
"Well during my days with the club I had a love-hate relationship with the fans. Some of them loved to hate me, but a lot recognised me for what I am, a Gooner through and through. They also realised that, even if I wasn't the best player ever to pull on a pair of boots in the cause, I would still give everything, and I mean everything, for the 90 minutes I was on the field.'
'I think my game had a special link with the fans. I wasn't out of this world. I didn't have talents that were way above anything they could ever dream of; it was as though I was one of them and had ended up playing for the team we'd all dreamed of playing for. And when they saw me having a bad day at the office (and there were a few) the distance between me and them probably didn't seem very big at all."
There was a cracking quote from Perry in 2006 when interviewed by the Guardian about his book and asked about his connection with the fans. He said:
"People look at Thierry Henry and think 'I could never be like that'. Me, they could look at a go, 'If I played that's how I'd be'. And I think they found more of a connection because players were more accessible then. They might have seen me out pissed in a wine bar, where I might have bought them a drink… or even tried to pull their bird."
Groves' biography is a hilarious romp about a time when footballers got drunk, behaved badly, got sent home from club trips and still won trophies. Football will never be like it again, but there must be so many of us that secretly wish it was sometimes because 'We all live in a Perry Groves world' outsold boring smug tripe dished out in the same year, 2006 by Ferdinand, Lampard, Rooney and to everyone satisfaction, particularly Perry's, Ashley Cole's.
It is exactly the attitude of Cole when leaving Arsenal that infuriates Perry and alienates fans who work for a living doing real jobs. When Perry was forced to retire in 1994/5 he was on £75k. Not a week as Thierry Henry is now, but a year! Perry was asked by the Guardian if he had read Cole's book published just before his, to which he replied:
"I wouldn't waste my time to be honest. I've read the serialisation in the paper, and it was so self-important – how unlucky he was, how far up himself – I wouldn't bother. He is saying how lucky Arsenal was to have him, he can't believe the way they have treated him, which is a load of bollocks. And me thinking how lucky I was to play for arsenal and rally milking it…"
Not sure I have reached any conclusions, but I just think as fans, even if we ignore the fact that the average Arsenal players now earn more a week than Perry did in a year when he left us, we are entitled to 100% effort from them when they pull on OUR shirt.
Perry is a cult hero even now and he won titles to earn his status, but this is not the reason why we adore him. We love him because he is one of us and he represents us just as JackWilshere does today. Everything we see and hear from Perry then and when he is interviewed, and Jack now on twitter is what we secretly want from all our team  and feel we are owed. We love to see Mikel Arteta take a pay cut to play for the Arsenal as much as we cannot bear the attitude of some recently departed stars and those who even now, yes you Andrey, do not seem willing to give everything for what it means to play for 'the Arsenal.'
We can turn a blind eye to how much you earn if you run through walls and spill blood for our team as long as you are privileged enough to wear the shirt. Perry Groves did!
You may also like...